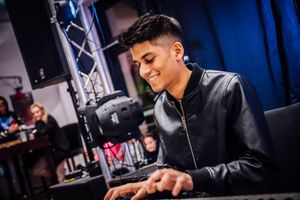 About
Originally from Mauritius, Rahul Suntah is a composer, music producer and pianist based in the UK who has attracted a following on Instagram and garnered over a million total views on YouTube after posting breathtaking piano covers of popular hits and releasing his debut EP 'Piano Stories' alongside winning the UWE Bristol Talent Show and being featured on popular platforms such as BBC, ITV, Music Crowns, Right This Minute and Pianist Magazine. Fascinated by composition and the technical craft of sound and music production, Rahul decided to pursue his university studies in Music Technology at the University of the West of England, Bristol, followed by a masters in Film Scoring on scholarship at the University of Bristol.
In addition to being an aspiring film composer, Rahul is a unique versatile musician and performer known online for his viral piano covers of popular songs uploaded on Instagram. Rahul blends the world of Classical and Electronic music using piano extended techniques and live loop setups while also incorporating a wide range of other musical genres such as Jazz, R&B, Pop, Rock and EDM, eventually leading his track 'Paradise Island' among the top tracks of 2021 on BBC Music Introducing. His musical inspirations broadly range from Beethoven, Mozart, Chopin to Stevie Wonder, Queen, Michael Jackson, Daft Punk, John Williams, Hans Zimmer, The Piano Guys as well as Charlie Puth, Ed Sheeran, Peter Bence and Jacob Collier. Rahul opened for the Unique Valentine's Live Show in Manchester, had his first headline shows in Bristol and London and opened for Amsterdam's Maandag Award Show in 2022.
Browse his website to get the latest news on covers, original music, album releases, videos, sheet music and upcoming concerts.